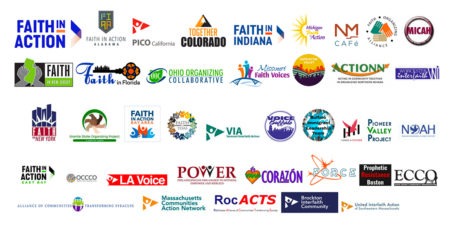 May 6, 2020
Dear Members of Congress:
As grassroots, faith-based organizations representing 500,000 families, we are hearing more and more stories of pain and grief, as people lose loved ones to COVID-19. The pandemic is reaching every corner of the country while falling most heavily on Black people who are dying at extraordinarily high rates. People of color, immigrants, health care workers, and those who live in marginalized urban, rural, and tribal communities are disproportionately struggling to survive and stay safe without jobs, income, and reliable access to health care. The virus is worsening already enormous problems of mass incarceration and deportation, and racial and class disparities in access to health and economic security. And we are seeing a vicious rise in racism and xenophobia against Asian Americans.
This public health and humanitarian crisis calls for bold and moral leadership from Congress to remedy the deep and systemic racial inequities in our country. To save lives and limit the damage to our society and economy, our response to this crisis must be both universal, providing protection, care, and support to everyone, and targeted, focusing resources on people and communities most at-risk. To date, the federal response has exacerbated rather than alleviated racial inequality, putting all of our health and wellbeing at-risk. As Congress works on another large stimulus bill it must put racial equity front and center, target resources to those communities that are hardest hit, and embrace policies that provide health care, living wages, and a strong safety net to everyone. These specific and detailed recommendations for inclusion in CARES2 are starting place.
1. Target all federal money to people and communities hardest hit by COVID-19 and job losses. 
The disproportionate impact of COVID-19 on Black communities is a national disgrace. We are witnessing Black people dying from COVID-19 in different states and cities at two to six times the rate of White people.[1] We are also seeing disproportionately high infection and death rates among Latinos, Asians, Pacific Islanders, Native Americans, and immigrants in some counties and states. As of April 28, in New York Black residents were dying at 4 times the rate of White residents, and Latinos 3.4 times the rate of White residents.[2] Pre-existing racial disparities are being exacerbated by inequity in who is able to protect themselves from infection, and in access to testing,[3] treatment and financial support. The CARES Act failed to target resources to communities based on need, and excluded immigrant families. Since its passage, awareness of racial disparities in the nation's response to the pandemic has become more widespread. Racial equity needs to be a cornerstone of CARES2 and that must include targeting provisions applied to all federal COVID-19 so that resources get to those who most need them.
Congress should build on some of the modest progress in reporting and targeting made in the Paycheck Protection Program and Health Care Enhancement Act, which requires reporting on racial disparities in testing, confirmed cases, hospitalizations, and deaths. It also sets aside $4.5 billion of the $25 billion in funding for testing based on a formula related to the number of COVID-19 cases and sets aside a modest amount of testing dollars ($825 million) for urban and rural health community centers, as well as $30 billion in small business lending authority for Community Development Financial Institutions.
The following provisions should be included in CARES2 so that resources flow to the greatest need, and racial disparities are reduced:
All health care funding should be allocated by a formula based on the number of confirmed COVID-19 cases and deaths
All aid to state and local government should be allocated by a formula that includes both confirmed COVID-19 cases and deaths as well as unemployment, poverty, and job loss
Funding for hospitals and health care facilities should include set-asides for rural and urban safety-net hospitals and community health centers
Reporting requirements should be extended to include program participation so we have an accurate picture of who is benefiting from federal funding, as well as disaggregating data to include Native, Asian, and Pacific Islander communities.
2. Treatment for all COVID-19 related medical expenses without cost to every person living in the U.S.
CARES2 must extend treatment for COVID-19, without cost-sharing, to all people in the U.S., including those who are uninsured, undocumented, and incarcerated.  No one should delay or avoid treatment, or go bankrupt as a result of becoming infected with COVID-19. People understand that we are in this public health crisis together, which is why 80 percent of registered voters support no cost COVID-19 treatment for everyone.
The Families First Coronavirus Response Act made testing available at no cost to people who currently have coverage through private insurance, Medicare, and Medicaid. The law also gave states the option to cover COVID-19 testing and related services for uninsured individuals at a 100 percent federal match during the emergency period. The CARES Act added no-cost coverage for a vaccine once it is available. And the Paycheck Protection Program and Health Care Enhancement Act provided an additional $1 billion for testing of those who are uninsured.
The next step that Congress must take is to extend no-cost coverage to all COVID-19 related treatment. It can achieve this by:
Providing a 100 percent Medicaid match (FMAP) to states
Extending the Medicaid increase and Maintenance of Effort (MOE) requirement through the duration of the economic downturn
Providing states with the option to cover treatment for the uninsured at a 100 percent emergency Medicaid match
Requiring that private plans, Medicare, and Medicaid cover COVID-19 treatment with no cost-sharing
Including multilingual enrollment assistance (100% FMAP)
Expanded use of presumptive eligibility
For people who are incarcerated suspending all cost-sharing for COVID-19 related treatment and beginning Medicaid coverage 30 days pre-release
Creating a national special enrollment period for private health plans
The Kaiser Family Foundation (KFF) estimates a less severe COVID-19-related hospitalization would cost $13,297 and a more severe stay in intensive care would cost an average of $40,218.[4] Without Congressional action, hundreds of thousands of families without health insurance or with plans that have large out-of-pocket costs will face financial distress and bankruptcy if they contract COVID-19. The KFF modeling assumes that 15 percent of people who are infected require hospitalization and that 15 percent of those stays are intensive. These numbers are likely to be higher in Black and Latino communities with elevated levels of pre-existing conditions and underlying social inequities.
Many Americans delay or do not seek care because of costs. In a pandemic, this is dangerous for the individual and society. In 2018 KKF found that that 13 percent of adults reported not seeing a doctor in the previous 12 months because of costs.[5] Other surveys show that as much as 44 percent of the people skip necessary medical care due to cost.[6]  Without Congressional action, many people will not seek timely care, and this will prolong and deepen the public health crisis.
3. Continuing living-wage cash payments to all working families without exception (including immigrant families who pay federal taxes with ITIN numbers)
Economic Impact Payments should be set at a living wage, be ongoing, and include everyone, especially immigrants who are vastly overrepresented among essential workers.
Payments should be set a monthly living wage of $2,000 per adult, $1,000 per child[7]
They should be continuous monthly during the period of severe financial crisis
They should extend all working families, including immigrant and mixed-status families who pay federal taxes with ITIN numbers.
In the CARES Act Congress went out of its way to exclude immigrant families from IRS rebates meant to help families survive the crisis. An estimated 4.3 million adults and 3.5 million children were excluded, even though their families pay billions of dollars in federal income taxes each year. Even families in which one spouse has a SSN and the other an ITIN were completely excluded from impact payments, with the small exception of households in which one member belongs to the military.
Immigrants are vastly overrepresented among essential workers, in health care, home health care, domestic service, food distribution and production, and cleaning.[8] Immigrant workers are on the front-line, most exposed to the risks of COVID-19, least able to protect themselves at their workplaces and homes, and left out of unemployment compensation if they lose their jobs. Excluding them from impact payments is cruel and counter-productive. We all lose when people are not able to stay safe during the pandemic.
4. Increased emergency food, cash, and housing assistance to people so that no one goes hungry or lacks a safe place to shelter.
The number of people losing their jobs due to the botched response to COVID19 in the U.S. could reach 30 million, while millions more have seen their hours cut back and money they need to survive dry up. Unprecedented numbers of people are lining up at food banks. Workers who earn wages and live paycheck-to-paycheck or survive on the informal economy are already finding it difficult to pay rents and utilities and put food on the table. The challenge to survive and avoid hunger will increase in the coming months and fall heaviest on Latino and Black workers who are least able to work from home (16 percent of Latino workers and 20 percent of Black workers can work from home compared to 30 percent of White workers).[9]
It is galling to watch Congress pass legislation that provides hundreds of billions of dollars to the airline industry and other large corporations, including big companies that have taken advantage of supposedly small business lending, while the poorest families struggle to survive without meaningful help from the federal government. Neither the CARES Act nor the interim funding legislation that followed included an increase in SNAP benefits for families. CARES2 must put the needs of struggling families first, or it will not have the support of communities of color or their Members of Congress.
The following safety-net funding needs to be included in CARES2:
a. Food Assistance
Increase the maximum SNAP benefit by 25 percent
Increase the minimum SNAP benefit to $50
Extend increased SNAP benefits during period of elevated unemployment
Suspend three-month time limit on receipt of SNAP
Eliminate restrictions on accessing SNAP based on past criminal convictions.
Support online purchasing by allocating emergency funding for SNAP recipients to use for grocery delivery fees.
Provide additional food assistance to Puerto Rico and the territories.
b. Cash Assistance
Double TANF block grants to states from $16.5 to $33 billion annually
Require that 90 percent of federal TANF funds be spent on direct cash assistance
Waive work rules during period of elevated unemployment
c. Housing Assistance
Congress should provide emergency funding to safely house homeless people, who are at extremely high risk from the virus.  It can accomplish this by allocating $11.5 billion in new funding to the successful Emergency Solutions Grants program, which provides resources to local governments, and non-profits to rapidly re-house people who are living on the streets.[10]
To prevent mass evictions Congress needs to extend the moratorium on evictions in federally subsidized rental properties to cover all tenants.
Congress will need to set aside $100 billion in rental assistance to prevent homelessness and financial ruin for millions of urban and rural families. This assistance can be provided through Housing Choice Vouchers, Section 521 Rural Rental Assistance, and the Disaster Housing Assistance Program (DHAP), which was used to address short-term rental assistance needs after previous disasters.
d. Suspend the Public Charge rules
Receipt of safety-net assistance as a result of the COVID-19 pandemic should not be counted against a person for public charge purposes.
5. Federal resources to safety-net/re-entry programs so that every person released from jail can remain safe and not recidivate, with a priority on programs led by returning citizens.
Congress needs to provide bolder leadership to protect the health and lives of people behind bars, those who have been recently released, their families, and correctional staff. Along with nursing homes, jails, prisons, and detention centers are the largest COVID-19 hotspots in the U.S. As many as 100,000 people could die if more aggressive action is not taken to reduce the number of people behind bars, according to modeling by ACLU and researchers at Washington State University, University of Pennsylvania, and University of Tennessee.[11] Recent testing at correctional institutions in Ohio and Indiana found that 70-90 percent of inmates tested positive.[12]
While much of the responsibility for saving lives behind bars rests with sheriffs, district attorneys, and governors, there is much more that Congress could do now to reduce the number of people behind bars, support people safely returning from incarceration, and protect those who remain behind.
 REDUCE the number of people in federal prisons and halfway houses to safe levels: The CARES Act gave the Bureau of Prisons wide latitude to transfer inmates to home confinement. As of April 25, The Marshall Project reports that just 1,027 people – about half of 1 percent of the more than 174,000 people in the bureau's custody at the start of the month – have been allowed to serve the rest of their sentences in home confinement.[13] Congress needs to use its oversight authority to aggressively pressure the Bureau of Prisons to transfer enough inmates to home confinement so that federal prisons meet minimum public health standards for physical distancing.
REDUCE by 75 percent the number of people in immigrant detention centers: Congress needs to use its oversight and legislative authority to drastically reduce the number of immigrants being held in overcrowded, unsanitary facilities. The number of people held in private and government-run immigration detention centers, as well as ICE staff and contractors, who are infected with COVID-19 is rising rapidly. One-in-three people held by ICE have tested positive for COVID-19.[14] Given the severe overcrowding in detention centers, there is no way to protect people from becoming sick and dying without drastically reducing the population. Only one in ten people held by ICE had a conviction for a serious crime and six in ten had no criminal record. On April 22 Federal Judge Terry J. Hatter ordered ICE to reduce the population at the Adelanto detention center in California to "a level that would allow the remaining detainees to maintain a social distance of 6 feet from each other at all times and at all places."[15] Achieving that standard would require an approximately 75 percent reduction in the population. The same need to happen across the country.
 FUND safety net/re-entry services for people who are being released from jail and prison: Congress should allocate $6.24 billion for safety net/re-entry programs to provide transitional housing, jobs, drug treatment, and counseling to people who are being released from jail or prison as a result of COVID-19. Partial funding (15 percent) could come from reinvesting local and state funds saved from reducing the number of people incarcerated in jails and prisons. Modest steps are being taken to release people from jail, prison, and immigrant detention centers, and pressure is building to broaden the scope of who is eligible to be released and pick up the pace. With 2.27 million people incarcerated in the U.S. at the start of the COVID-19 pandemic, a significant reduction in the prison population in the U.S. would translate into hundreds of thousands of additional people being released. Many will have trouble finding safe housing, food, and employment they need to survive and stay free. Funding should be set aside within the pandemic re-entry program for programs run by formerly incarcerated returning citizens.
REMOVE barriers to re-entry for people returning to their communities: Institute a moratorium on any housing and services restrictions based on a history of justice involvement or immigration status.
INSPECT and REPORT on conditions in jails, prisons, and detention centers: Require inspections by pubic health officials of federal prisons and private and government-run detention centers, the public release the results of those inspections, and national reporting on testing, confirmed cases, hospitalizations, and deaths in detention.
6. Public Health Corps for testing, contact tracing, and case management in vulnerable communities.

We support proposals by the Johns Hopkins Center for Health Security, Association of State and Territorial Health Officials (ASTHO), and National Association of County and City Health Officials (NACCHO) to rapidly develop a large-scale system for case finding and contact tracing that includes deploying 100,000 people as contact tracers at a cost of approximately $3.6 billion.[16] However, as important as this investment in public health infrastructure is for the future of the country, it will only succeed if it has a much stronger focus on racial equity.
Contact tracing is a long-standing capacity that state and local public health departments use to respond to infectious diseases. Tens of thousands of people have died unnecessarily and millions more have lost their jobs because of the failure of political leaders, beginning with the President of the United States, to ramp up testing and contact tracing in February 2020. Before a vaccine is widely available there is no exit from the public health, humanitarian, and economic crisis facing the country without widespread testing, contact training, and safe isolation of people who are infected. Countries such as South Korea, New Zealand, Australia, and Iceland that have invested in testing and tracing are in a position to safely reopen their economies. Some states, such as Rhode Island and Massachusetts are following their lead by broadening testing criteria and deploying paid staff and volunteers to trace the contacts of people who test positive.
The challenge for the U.S. in applying lessons from other countries and our state and local public health departments is that we are the most racially and economically unequal society to face the pandemic. Racial inequity is hobbling our response and will undermine a large-scale testing and contract-tracing program without targeted health equity investments and policies.
A Public Health Corps should include the following health equity policies:

Targeted funding to the most vulnerable communities: Congress should provide $4.6 billion in funding for hiring contact tracers, including at least $1 billion specifically targeted to double the number of contact tracers working in communities with the highest poverty rates in the U.S. Funding should flow through community health centers, urban and rural public health departments, and non-profit organizations with long-standing ties and credibility in communities of color and be used to provide more intensive training to newly hired staff and support neighborhood-based and door-to-door testing, contact tracing, and follow up support to assure that people can safely isolate.
Resources for housing people who test positive and cannot shelter safely: Many people who test positive as part of a widespread testing and contact training initiative will be unable to safely self-isolate because they are homeless or live in overcrowded or unstable housing. A Public Health Corps needs to include adequate resources and training to identify and connect people to safe and humane temporary housing, as well as other social and health services they need to protect themselves and their family members.
Hiring people from impacted communities: A priority must be placed on hiring people from the communities in which they will be working. Contact tracing requires high levels of trust and cultural awareness. People who serve in the Public Health Corps must be trained in implicit bias, racial equity, culture competence, and relational engagement. They need to approach their work in the context of building high respect, high trust relationships in the community, and protecting confidentiality, not as a policing or surveillance force.
Increased pay for frontline workers and paid family and medical leave for all workers impacted by COVID-19.
We support proposals by the National Domestic Workers Alliance and other grassroots organizations to increase pay for frontline workers, including home health workers paid through Medicaid, and to provide paid sick time and emergency paid family and medical leave along the lines of the PAID Leave Act introduced in the Senate on March 17, 2020.
The original Families First Coronavirus Response Act provided emergency paid sick leave and ten workweeks of emergency paid family leave to people working in businesses with fewer than 500 employees while excluding most workers. As the pandemic has intensified and its disproportionate impact on people of color and frontline workers has become harder to ignore. Nationally 78 percent of health care workers are women, and women continue to bear the greatest burden of caring for family members who become sick.
CARES2 should include:
Provisions of the PAID Leave Act that provide 14 paid sick days and 12 weeks of emergency paid family and medical leave, reimbursed by the Federal Government.
Funding to cities and states to build an infrastructure to deliver portable benefits so frontline workers, including domestic workers, can access paid time off and other workplace benefits.
Increased pay and funding for adequate personal protective equipment to essential workers including home care aides paid through Medicaid.
8. Universal access for people to choose to vote either by mail or safely in-person
We support the voting rights proposals made by the Leadership Conference on Civil and Human Rights[17], the Brennan Center, ACLU, and others. Congress must use its constitutional authority to assure a free and fair election in November, including:
Allocating a minimum of $3.6 billion to state, local and tribal governments to adapt their voting systems
Requiring that all states offer all voters the choice to vote either through no-excuse mail-in absentee ballots or safe in-person voting, without making a request for an absentee ballot foreclose the option of voting in-person (as it currently does in some states)
That states mail absentee ballots to all registered voters during a public health emergency
That voters be able to return their ballots with pre-paid envelopes and have their ballots counted as long as they are postmarked by Election Day, and that language access is guaranteed.
A minimum early-vote period of 14-days that includes at least one weekend
All voters should have the ability to register to vote online, by mail, or in person and allow same-day voter registration
All voters should be able to vote at in-person voting places that meet public health standards and do not expose voters or poll workers to undue risk of infection
Provide safe early voting opportunities for front-line workers and patients in hospitals and other health and care facilities
Adequate funding to secure the survival of the postal service, which is so critical to rural and Native communities
9. Emergency humanitarian aid to strengthen health infrastructure, including access to clean water, and provide food assistance in the Caribbean and Central America, and protect migrants and refugees in the region.
The COVID-19 pandemic is already causing widespread illness and death and economic suffering within that Western Hemisphere. Our region is interconnected and cannot survive and prosper without mutual support. Many countries in Central America and the Caribbean are confronting the crisis with extraordinarily fragile health systems. Haiti, for example, which is deeply interconnected through history and diaspora communities, has just 900 doctors and 30 functioning ICU beds for a population of eleven million people, according to some estimates.
The CARES Act recognized the extreme vulnerability of refugees and migrants by allocating $350 million for "Migration and Refugee Assistance" to the Department of State. Congress should build on this foundation by providing $12 billion in emergency supplemental funding for international aid.  Funding priorities could include:
Resources for local health departments to develop testing and contact tracing in at-risk communities.
Emergency food and economic assistance to stave off hunger and starvation.
Targeted funding to increase household access to potable water
Additional funding for shelters and programs working to protect migrants and refugees
We look forward to working closely with you over the coming weeks to build support for bold policies that save lives, rebuild our economy and democracy on a stronger, more racially equitable foundation, and garner the confidence and support of our communities.  For more information please contact Rich Morales at rmorales@faithinaction.org.
Sincerely,
Rev. Alvin Herring, Executive Director, Faith in Action
Daniel Schwartz, Executive Director, Faith in Action Alabama
Alicia Contreras, Executive Director, CORAZÓN AZ
Joseph Tomás McKellar and Rev. Ben McBride, Co-Executive Directors, PICO California
Dr. George Cummings, Executive Director, Faith in Action East Bay, CA
Rev. Trena Turner, Executive Director, Faith In The Valley, CA
Rev. Zach Hoover, Executive Director, LA VOICE, CA
Miguel Hernandez, Executive Director, Orange County Congregation Community Organization, CA
Sharon Bridgeforth, Board President, Together Colorado
Rev. Rhonda Thomas, Executive Director, Faith in Florida
Ciera Walker, Executive Director, Live Free Chicago, IL
Shoshanna Spector, Executive Director, Faith in Indiana
Daphne Halwy, Board Treasurer, Micah Project, LA
Omar Angel Perez, Lead Organizer, Congregation Action Network, MD/VA/DC
Janine Carreiro & Lew Finfer, Co-Directors, Massachusetts Communities Action Network
William Dickerson, Executive Director, Brockton Interfaith Community, MA
Dr. Alexandra Pineros-Shields, Essex County Community Organization, MA
Danielle Williams, Executive Director, Prophetic Resistance, Boston
Tara Parrish, Director, Pioneer Valley Project
Andrea Sheppard Lomba, Executive Director, United Interfaith Action, MA
Keturah Brewster, Interim Director, I Have a Future, MA
Isabel Gonzalez, Executive Director, Worcester Interfaith, MA
Eileen Hayes, Executive Director, Michigan Faith in Action
Alia Harvey-Quinn, Executive Director Force Detroit, MI
Rev. Cassandra Gould, Executive Director, Missouri Faith Voices
Sarah Jane Knoy, Executive Director, Granite State Organizing Project, NH
Charlene Walker, Executive Director, Faith in New Jersey
Johana Bencomo, Executive Director, Comunidades en Accion y de Fe – CAFe, NM
Ralph Williamson, President/CEO, Faith Organizing Alliance, NV
J.D. Klippenstein, Executive Director, Acting in Community Together In Organizing Northern Nevada
Crystal Walthall, Executive Director, Faith in New York
Whitney Walker, Executive Director, VOICE Buffalo, NY
Jerry Manuel, Board Chair and Rev. Dr. Bruce McKay, Interim Executive Director, Buffalo Immigrant Leadership Team
Leslie Nickerson, Executive Director, Niagara Organizing Alliance for Hope, NY
Betty Hancock, Community Organizer, Rochester Alliance of Communities Transforming Society, Inc. NY
Angela Douglas, President & Executive Director, Alliance of Communities Transforming Syracuse, Inc. NY
Molly Shack, Executive Director, Ohio Organizing Collaborative
Bishop Dwayne Royster, Philadelphians Organized to Witness Empower and Rebuild (POWER), PA
Rev. Greg Edwards, Director, POWER Lehigh Valley, PA
Nathan Sooy, Director, POWER Central Pennsylvania
Will Fuller, Director, POWER Metro, PA
Akilah Wallace, Executive Director, Faith in Texas
Rev. Debbie Ingram, Vermont Interfaith Action
Fr. John Baumann, Founder & Director of Special Projects, Faith in Action International
[1] https://www.apmresearchlab.org/covid/deaths-by-race
[2] https://health.data.ny.gov/Health/New-York-State-Statewide-COVID-19-Testing/xdss-u53e
[3] Illinois is one of the only states reporting on racial disparities in testing. Of those cases where race is listed Black people who are tested are 1.8 times and Latino people 2.7 times more likely than White people to test positive.  Almost 40% of Black people tested and 62% of Latino people tested, test positive, extraordinarily high numbers that suggest great under-testing in these communities. https://www.dph.illinois.gov/covid19/covid19-statistics
[4] https://www.kff.org/uninsured/issue-brief/estimated-cost-of-treating-the-uninsured-hospitalized-with-covid-19/
[5] https://www.kff.org/other/state-indicator/could-not-see-doctor-because-of-cost/?currentTimeframe=0&sortModel=%7B%22colId%22:%22Location%22,%22sort%22:%22asc%22%7D
[6] https://www.westhealth.org/press-release/survey2018/
[7] MIT researchers estimate a living wage for a family of 4 in 2019 was $68,808 annually. https://livingwage.mit.edu/articles/61-new-living-wage-data-for-now-available-on-the-tool
[8] Immigrants make up 14% of the U.S. population, but 21% of Nursing Assistants, 35% of Home Health Aids, 42% of Farm Workers, 25% of Janitors, 47% of Domestic Maids, and 18% of Truckers. https://www.cato.org/blog/immigrants-aid-america-during-covid-19-crisis
[9] https://www.epi.org/blog/black-and-hispanic-workers-are-much-less-likely-to-be-able-to-work-from-home/
[10] http://www.evidenceonhomelessness.com/factsheet/emergency-solutions-grants-program/
[11] https://www.aclu.org/sites/default/files/field_document/aclu_covid19-jail-report_2020-8_1.pdf
[12] https://coronavirus.ohio.gov/static/DRCCOVID-19Information.pdf
[13] https://www.themarshallproject.org/2020/04/25/few-federal-prisoners-released-under-covid-19-emergency-policies
[14] https://www.rollcall.com/2020/04/17/ices-covid-19-test-figures-hint-at-health-crisis-in-detention/
[15] https://www.ocregister.com/2020/04/23/federal-judge-orders-adelanto-ice-detention-center-to-release-detainees-ensure-social-distancing-amid-coronavirus/
[16] https://www.centerforhealthsecurity.org/our-work/pubs_archive/pubs-pdfs/2020/200410-national-plan-to-contact-tracing.pdf
[17] http://civilrightsdocs.info/pdf/policy/letters/2020/COVID-19-Coalition-Letter-updated-3.19.20.pdf